Maret The Night
Musician & Composer Grégoire Maret prepares for his inaugural show at The Django.
10.10.22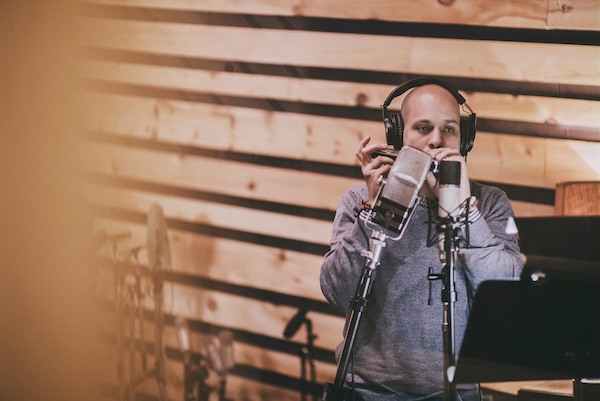 Grammy winner, Swiss born harmonica player and composer, Grégoire Maret moved to New York City at 18 years old to study at the New School University. Over the course of the past decade, Grégoire has emerged as a unique and compelling new voice across a wide spectrum of the modern jazz world. Herbie Hancock has called Maret "one of the most creative musicians around," while Marcus Miller has declared that he is "carrying the instrument into the 21st century with prowess, passion, and creativity."
The Django recently sat down with Grégoire in anticipation of his upcoming performances on Wednesday, October 12th at 10:30PM and 12AM. Find out what the future holds for this Harmonica Virtuoso and what you can expect to hear when he takes the stage at The Django this month.
Who were some of your earliest musical influences?
My first musical influences were Louis Armstrong, Duke Ellington, musicians that my father was listening to all the time growing up in Geneva Switzerland. Charlie Parker, Miles Davis and John Coltrane came later when I was in high school.
Growing up in Switzerland, what were some of your most vivid early musical memories?
My father had a band named "The Dry Throat Fellows" of the early jazz from New Orleans. I had an amazing time listening and watching them rehearse. It was really magical to see how they were getting the music to sound the way it did. I was trying to read their charts and arrangements and really paying attention to all the details.
When did you decide that you would make a life in music?
I grew up surrounded by music. It came really natural to me to play music. I decided sometime during High School that I would try seriously to become a professional musician.
The harmonica isn't an instrument normally associated with Jazz. How were you drawn to it?
I saw a concert of Blues by Luther Allison while in High School. A harmonica player went to jam with the band during the encore. I was mesmerized by the fact someone could play so much stuff on a little instrument like that. I was hooked… I also realized later that I loved the voice-like quality of this instrument.
Who are some of your greatest harmonica influences.
First I would say Sonny Williamson II, Junior Wells, James Cotton and many of the blues greats. Later when I started playing Chromatic Harmonica I discovered Toots Thielemans. I couldn't believe what he could do on the harmonica. Around the same time I realized that I had been listening to harmonica my whole life with Stevie Wonder. I had to go back to all the music from Stevie with new ears…it was just incredible.
Tell us about some of your most cherished musical experiences since your profile has grown worldwide?
I have many special moments I cherish. One that is really special is the first time I had the chance to play with Herbie Hancock. It was just magical. I was part of Marcus Miller's band at the time and Herbie was a special guest during a jazz cruise. It was really incredible for me. I had dreamed about that moment for a long time and finally it was happening. Musically it was even more special and challenging than I could have hoped.
What's your favorite thing about New York?
The fact that it's a melting pot. We can cross paths with people from anywhere in the world. This melting pot has a huge effect on the music we hear. I think it's really great. Very unique. Also, the amount of great musicians and amazing artists that live here makes it really special.
What can people expect to hear at your Django shows on 10/12?
I will present new work and revisit old songs with new arrangements. I will showcase some of the work I did on my last 2 albums. The first one named Americana and the 2nd one, which will be released next year, is a tribute to the great Ennio Morricone.
Who are some artists you still want to work with?
I would love to work with Bon Iver and Peter Gabriel
What's coming from you in 2023?
A new album, as I mentioned earlier, which is a tribute to Ennio Morricone and some touring to support this music with Edmar Castaneda. We have a duo and we tour quite a bit. I also just recorded with Harold Lopez Nussa and I'm sure we will do some shows together.