Naama Gheber Sings Us Into Spring
By Nick Hempton
03.31.22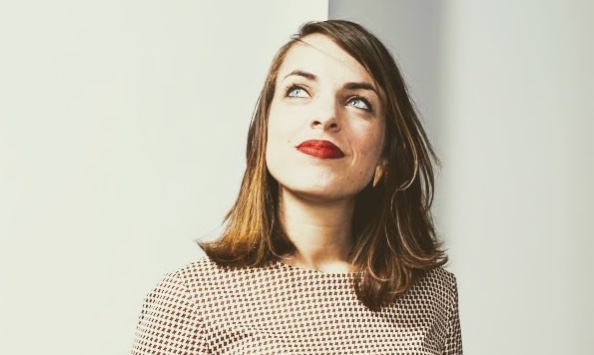 Since her arrival not just at our NYC jazz bar, but on the entire New York jazz scene, vocalist Naama Gheber's has been a career to watch. Her natural, easy, swinging style and deft choice of repertoire has made her a favorite at clubs and listening rooms around town, "but it's Gheber's skill at finding the emotional core of every song" (Downbeat Magazine), that keeps audiences captivated.

April 13, Naama returns to the Django stage, along with the stellar rhythm section from her upcoming album, If I Knew Then. She spoke to us about her musical journey from the Israeli desert to the jazz clubs of New York City, and what it takes to move an audience. T0 make reservation for her show at The Django, book HERE.

On

NH: Hey Naama, it'll be great to see you back on the Django stage on April 13, and you're bringing in a swinging band. What do you have in store for us?
NG: I am always excited when I get my favorite rhythm section to play with me. They are all so in demand I rarely get a chance to get all of them in the same room at the same time. Last time I managed to do so was in January where we recorded my upcoming EP. On April 13 we will play some music from the upcoming album as well as some of my favorite tunes from my previous album, Dearly Beloved. It is also spring- finally! Apart from the obvious reasons, I love this season because of the beautiful (mostly ironic) ballads that were written about spring– I'll definitely be doing some of those on the show.
NH: How did you find jazz? Do you remember when you first heard it?
NG: My story is definitely not a typical one. I was born in a city in the desert of Israel. My parents were aspiring scientists. Music was always around– my dad was a fan of classical music, 70's and 80's American bands as well as Israeli music. I started my musical journey with classical piano, which I apparently was good at but didn't enjoy. I always wanted to sing, but my father, disappointed he did not transfer all of his musical genes to me, thought I had a serious intonation problem and that it would be better to offer me a different form of art to focus on. When I was 18, I had received a gift from my grandparents and decided to use it to pay for what were basically my first singing lessons with one of Israel's most famous singers. As a child I lived in Baltimore, Maryland, while my parents were studying at Johns Hopkins university and so I was lucky to pick up English with an American accent at a young age. My teacher was very impressed with this and encouraged me to sing in English– "you should be singing jazz," she said. From there I started exploring the genre and found a couple of teachers and aspiring musicians in a local conservatory that introduced me to some jazz greats. Very early into that process it was time for me to fulfill my duty as an Israeli citizen and join the army but fortunately the seed had been planted– I was in love  and 3 years later when I was discharged, I was accepted into the Center for Jazz studies in Tel Aviv that was partnered with The New School in NYC. I still don't know how I was accepted– I really didn't know shit. It drove me to work extra hard. I realized I needed to be practicing and listening five times the average student if I had a chance at this career. I never felt like I had a choice, jazz found me and it was clear to me, every step of the way, that it is what I should be doing.
NH: You clearly love the American Songbook– what is it that draws you to a song? Is it melody and lyrics that you feel you can make your own? An emotional connection to a particular recording of the song? Or something else?
NG: Oh I do. I love the elegance and class of the era the songs were written in. There is also a sort of innocence to many of them. It's obvious to me that humans have always been dealing with the same issues: love, lust, heart break etc, but I don't know, something in those simple romantic stories always got me. As a vocalist, lyrics are definitely the number one aspect that connects me to a song. I realized early on that my ultimate goal is to sing to an audience that came to the show with an expectation to be moved. When circumstances are right, there is this magic that happens between the audience and myself, usually with the most honest, vulnerable songs. I literally live for these moments so I try to make sure I sing as many of those songs as possible. I think the lyrics in combination with a melody that creates vulnerability, is what draws me to it in the first place.
NH: You played some piano as a child. Do you still play, and do you find piano skills useful in learning new tunes? Is it useful in other ways?
NG: Piano and I have a love/ hate relationship. It has been amazing to have this strong musical base throughout my life. The thing is, I studied classical piano and when it was time to convert that to jazz I found it very challenging. It was basically undoing everything that I was taught and training my brain to think about what I was doing, as opposed to working on technique for hours with little understanding of what was going on. That being said I cannot stress enough how important I think it is for vocalists to know their way around the piano so that they can better understand the harmonic progress of a tune. Singing comes naturally to some, and it allows an easy way around that for the very talented singers, but I always preach to my students that they need to learn how to incorporate a harmonic instrument when they work on their craft. For someone like me who did not grow up with this music, it was, and still is, the only way I learn music and improve the music I already know and keep growing musically. Honestly, I wish I was back at an age where I didn't have to worry about paying rent, so that I could spend hours practicing.NH: Do you listen to other kinds of music? Anything that might surprise us?
NG: I have honestly been listening to jazz for the past 8 years. I have been professionally pursuing it. I do love some music written by Israeli composers. I even recorded my version of the song " Goodnight My Love" which is a combination of the jazz standard with an Israli lullaby I grew up listening to. I also love working out to (don't laugh) 2000's pop hits.
NH: Lastly, hip us to the place to get Israeli food in NYC.
NG: That's a hard one as I have such low expectations of Israeli food in NYC that I usually don't seek it. The produce over there is just so good and such a huge part of the cuisine that it is hard to copy here. Everyone– go visit Israel! That being said, Eyal Shani's restaurants in NYC– Miznon and HaSalon– are pretty amazing. Also, there is this amazing Palestinian spot called Qanoon in MeatPacking I am in love with.