Hitting It Big Time
Getting the lowdown from JC Hopkins on The Biggish Band.
09.08.23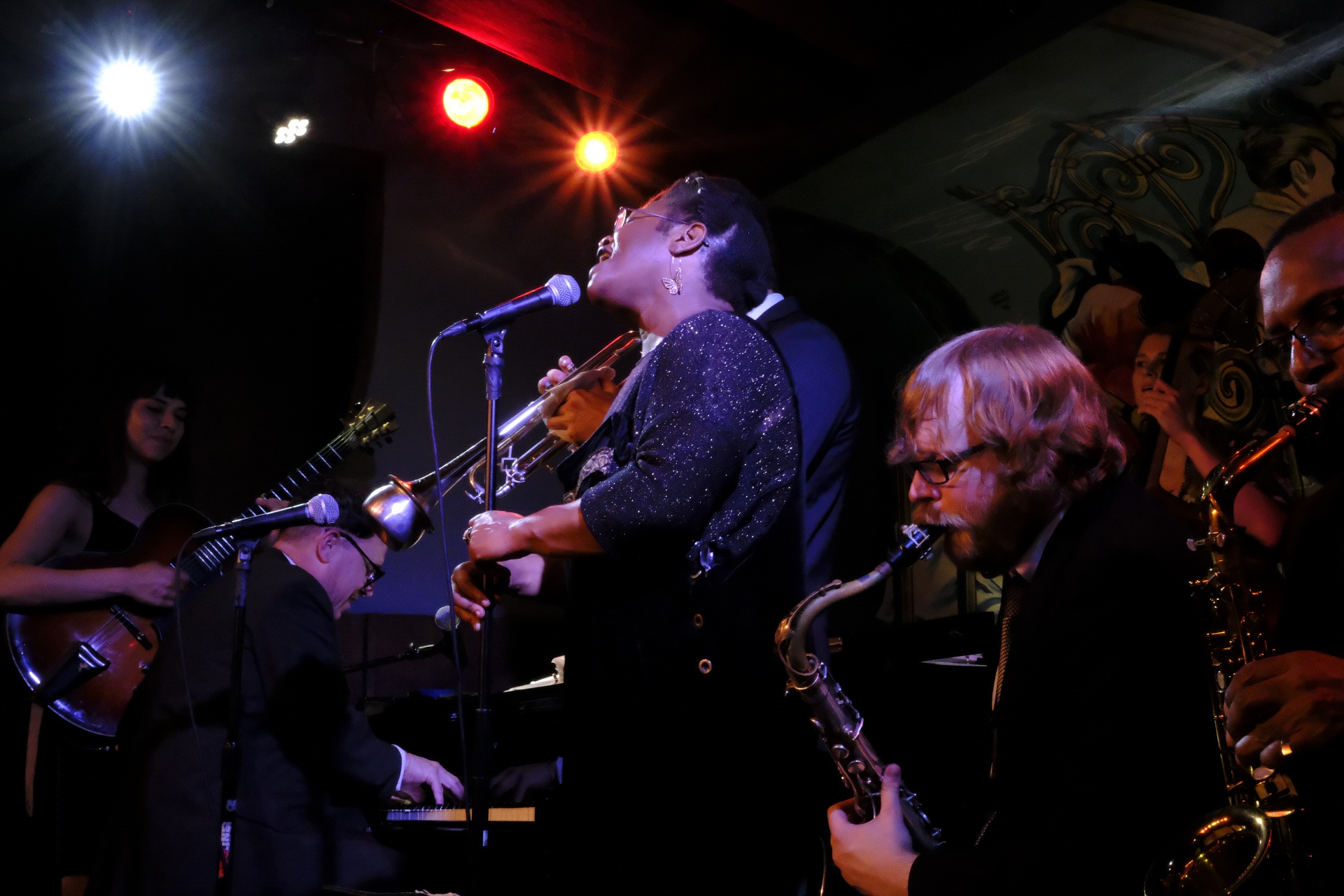 JC Hopkins is a Grammy nominated songwriter, producer and leader of the world renowned, JC Hopkins Biggish Band. The Biggish Band has featured some of the most important vocalists in the history of modern music including Elvis Costello, Norah Jones, Jon Hendricks, Andy Bey, Jazzmeia Horn, and Madeleine Peyroux.
The Biggish band returns to The Django stage on Saturday, September 23 with sets at 7:30PM and 9PM. Reserve your table HERE. We caught-up with leader JC Hopkins to get the lowdown on what audiences can expect for their upcoming sets!
How did the idea for your "Biggish Band" come about?
I was living in San Francisco playing solo piano in a dive bar called The Rite Spot after a while certain musicians asked if they could sit in. Next thing I knew I had a quarter and then a quintet . I took the songs we were playing, my original songs and realized when put in a certain order they told a story. So with a poet friend we wrote a jazz musical called Show Biz'ness. It ran six months sold out . After which decided to move to NYC. I met Norah Jones shortly thereafter and asked her if she would sing with my big band . She gave me an enthusiastic yes! She too had also just arrived from Texas. The problem was I didn't have a big band, or a venue. Luck would have it I met James Habacker who had just opened the Slipper Room and he gave me a weekly gig for my "Biggish Band." 
Who were some of your formative musical influences that pointed you towards your current large ensemble format?
Mostly I wanted and still want to write another page for American Songbook. And then dress the songs up in modern bebop Tadd Dameron type arrangements and  have awesome musicians and incredible vocalists perform the songs. I love Gil Evan's and Mingus but I grew with my dad blasting hard bop in the house. So Art Blakey and the Jazz Messengers are a huge influence. 
When did you decide that vocalists would play a large role in your band's sound?
 From the git go. I came at it all from the point of view of a composer. I write personal songs but hope they hit in a universal way. In my mid twenties I became obsessed with the songbook- Gershwin, Hoagy, Ellington, Monk and ingested the music daily, hourly.  When  I sit down to write, what I have ingested comes out but in my own voice. It helps to have people like Norah Jones, Tyreek McDole, Jazzmeia Horn, Bakko, Vanisha Gould, Leah Hinton and so many greats singing the songs.   
You've worked with some of the most famous singers on the planet. Tell us some of the most memorable experiences you've had with them?
 We had the absolute honor to perform with the great Jon Hendricks, known as the poet laureate of jazz for the amazing lyrics he put to great bebop lines. We were all set to record with him, he was 95 years old and we had Solomon Hicks in the band who had just turned 19. When I got word that his lovely wife had passed I didn't think the session would happen. But his daughter thought it would be therapeutic for him to do the recording. He showed up at Bunker Studio immaculately clad in a brown three piece houndstooth suit and bowler hat. But he was tentative. He recorded the great Monk ballad Ask Me Now, which he put lyrics to, as a duet with Jazzmeia Horn, still makes me cry . But when he recorded In Walked Bud (Suddenly) with Charles Turner and Brianna Thomas, Jon showing them certain intricacies of the harmony and syncopation did he really start cooking. Such a wonderful experience for all those involved and so glad it exists forever on our album "Meet Me at Minton's." The legendary Andy Bey is also featured on that album with Brandee Younger on harp.
Elvis Costello, in particular, is known to have a near encyclopedic knowledge of all kinds of music – pop, rock, jazz and beyond. What can you tell us about working with him?
 We got together with Elvis for a tribute to the great Mose Allison. We got to talking and you're right he has an encyclopedic knowledge of music. We agreed on a song for him to sing with the Biggish Band, I think it was Monsters of the Id. And then he called me back and said, "What about Middle Class White Boy? I said sure and said what about Everybody's Cryin Mercy? Because I knew that he had sung it in the past. He readily agreed. Next thing you know he is doing five songs with the Biggish Band. Growing up Elvis Costello was it for me. I liked even loved the Clash but Elvis was my man. Just great songwriting, linear melodies, engaging wordplay, a great band and him a fabulous vocalist. It was truly a dream come true to work with him. Lately we have been discussing doing a tribute to his songbook arranged for the Biggish Band with him singing and special guests. I just can't wait for this to happen.
What's the hardest thing about writing, arranging and leading a 10+ piece big band?
 The thing that is the hardest is also the most rewarding.  NYC has such dense and immense talent that the great people, musicians and vocalists that I have had the blessing to work with also get to be in great demand. Obviously Norah Jones was one but then for a brief period Madeleine Peyroux was there and then Queen Esther, Brianna Thomas, Jazzmeia Horn and so on. Same with the musicians. A great player can't make the gig. And sometimes it's last minute, which is stressful, but lo and behold they send a sub who is phenomenal. Happens all the time and it is exciting. 
 The way the process works is I write a song. I get it to the vocalist who informs me their favored key. I get a demo of the song and the key to an arranger, lately it is the great Elias Ortiz and we get together on the vibe for the sound. But then I let him put his stamp on the arrangement. Since we don't rehearse the arrangement is placed before the musicians on the bandstand on the night of the gig. It is their first time seeing it and the vocalists first time singing it with the band. 1,2,3,4 and we are off. It is exciting and also a little nerve wracking. But truth be told we have never had a train wreck which speaks to the talent of all the people on the bandstand.
What's the most rewarding thing about it?
Playing the music before an audience. It means so much especially when the venue brings its own ambiance and vibe. Not only do we play original music but also play the greats, Thelonious Monk, Charles Mingus, Duke Ellington, Charlie Parker and so . But when we play one of my compositions and have a superb vocalist perform it, fabulous musicians solo over the changes, hear the horn section play an arrangement crafted specifically for that song – wow!
You're appearing regularly at the Django these days. What's your favorite thing about performing there?
 We are so lucky to have the residency at The Django. Every performance has been electric and that is because the audience who come there come to be part of the experience.  Also the staff treat the musicians royally. And every element we need, from the sound engineer to the lighting is just perfect.   Feels like each performance is one for the books!
What can people expect at your next show on September 23?
 We are so thrilled to have two great vocalists performing with the band on September 23– Tyreek McDole, a young male vocalist who is destined to be one of the greats. Mark my words. And also a young electrifying female vocalist named Bakko who brings a little more of a soul vibe to the music. We will have new compositions being debuted and new arrangements that are maybe a little more funky than what we've been playing. Of course it will still be swinging!
What's on your music player these days – ie what inspires JC Hopkins?
Lately I have been listening to Kamasi Washington. His music is big and fills up a room and your head. Feels like Coltrane and Curtis Mayfield coming together, which is maybe why I have been listening to a lot of Curtis and Coltrane of late.  I also love listening to Morton Feldman first thing in the morning just to ease into the day. The space between the notes, the space is the thing. I love  Black Messiah by D'Angelo  but you know you're driving in your car and it is on shuffle it is one great track after the other. The music never stops!