Give The Drummer Some
Get to know drummer Dwayne "Cook" Broadnax!
11.17.23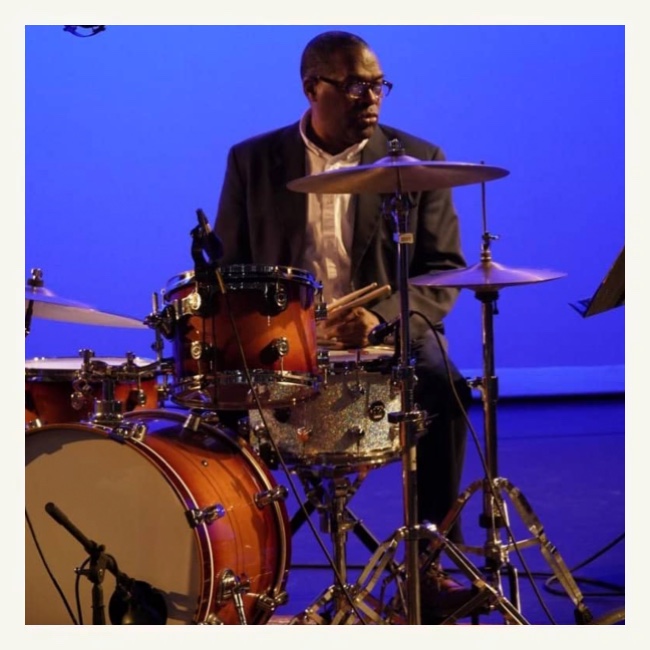 Famed drummer Dwayne "Cook" Broadnax has been a mainstay of the NYC jazz scene for nearly four decades. He's worked with legends like Johnny Copeland, Little Jimmy Scott and Bill Doggett. And when he's not making other artists sound good, he leads his own affecting groups, like the one you can hear at The Django on Saturday November 25. Get to know this rhythmic powerhouse!
1. You're originally from Philadelphia, as many other acclaimed jazz artists are as well (like Kenny Barron, Christian McBride, Joey DeFrancesco, Mickey Roker, and the list goes on)… What is it about that city do you think that helped produce so many great musicians?
I think the energy and creativeness of the city itself. Art programs in schools, plenty of community art and music programs. Its always been a hub for popular music, from Doo-wop, Jazz, R&B, Funk, Soul etc.
2. How were you introduced to the drums?
As a young man growing up in Philly my click of friends decided to start a band. We had absolutely no experience and no instruments either. But that didn't stop us from actually becoming a band. A not-so-good sounding band, but a band nonetheless. I was made the drummer. I don't know who made that decision, but it was made, and I became a drummer for the rest of my life. I was about 14 years old.
3. What was your first professional gig?
My first pro gig, that I recall, was our not-so-good band played for a neighborhood block party. And we got paid something like $10 each. But we got paid and it was no looking back.
4. What drummers inspired (and continue to inspire you)?
As a young man I'd say Billy Cobham, Max Roach & Buddy Rich were my first inspirations. I also had a young buddy name Gene Jackson who inspired me too. Even though we were the same age and friends, he always inspired and motivated me. And still does.
5. Tell us three of the most memorable concerts you've played, the artists they were?
The first was with Mr. Jimmy Scott aka Little Jimmy Scott in Japan at the Nicano Sun Plaza in Tokyo with the Tokyo Orchestra. The second was with guitarist Johnny Copeland at North Sea Jazz Festival around 1997. And number three was at the Howard Theater in Washington DC with tap dancer Savion Glover around 2007.
6. You're also an acclaimed drum teacher as well as performer. What's the most important thing you try to teach your students?
As a Professor at LIU/RocNation I try to teach my student the importance of being a good musician. Along with other aspect of being a good artist aside from playing your instrument well. Such as, being on time, learning the music, dressing appropriately etc.
7. Is NYC still the "Capital of Jazz"?
I'd say yes, but of course, some may disagree!
8. What can people expect to hear at your Django show on 11/25?
What I like to bring to my shows is "A Show." I enjoy engaging with the audience. Playing the music they want to hear. And mainly having fun and making the audience feel right at home.
9. What's your favorite thing about leading a band there? 
I enjoy most the fact that I can take my time to talk to my audience, take my time to introduce my musicians and take my time to create  a musical experience for the audience.
10. What's in store for 2024? 
I've been working on new original music for a while now, hopefully in 2024 it'll be revealed. I also look forward working with more of the young cats that are coming to NY with brand new ideas. Naturally I look forward to continuing to bring my music into the Django.