Celebrating the Slide Hampton Octet
By Nick Hempton
02.22.22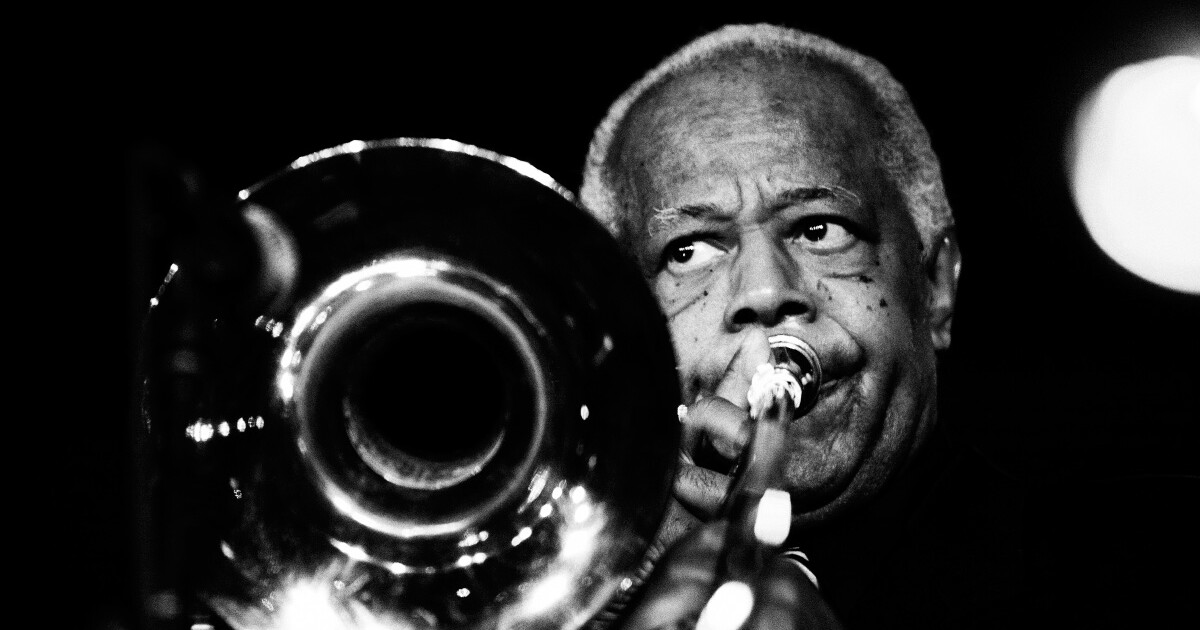 Legendary jazz Trombonist Slide Hampton moved audiences with his warm, generous tone and smooth phrasing throughout a career spanning 70 years. But he was equally admired for his skills as arranger and composer, providing charts for artists from Dizzy Gillespie to Diana Ross. Hampton's own Octet toured the world and recorded multiple albums, and was renowned not only for the hippest arrangements, but also for brilliant fiery solos from some of the leading lights of modern jazz.
On Tuesday March 8, drummer Charles Ruggiero, whose father Vinny propelled the original octet from behind the drums, will co-lead an all-star tribute along with baritone saxophonist Frank Basile. Charles spoke with the Django from his home in LA about this rare NYC appearance. 
BOOK YOUR TICKETS >>HERE.
NH: Hey Charles, we can't wait to hear this incredible band at the Django. You lived in NYC for years, but these days hearing you play here is a rare treat. What can we expect on March 8?
CR: Hey Nick, always nice to chat with you! Thanks for the kind words, it's always nice to be referred to as a treat :)… As for the 8th of March, aside from the obvious – which is a swinging band with incredible soloists – I think listeners can expect to hear elite level writing and arranging. So often jazz is only about the improvised solos, or highly arranged big band ensemble playing. With our band you get the best of both. 
NH: Slide's original octet was made up of some of the most swinging cats in modern jazz– everyone reads and solos like mad. How did you and Frank put this band together? What did you look for in band members? 
CR: It was all Frank really. I was lucky to be living in the city when Frank needed to hear his work (to be clear Frank transcribed all of the music because Slide lost it all in a cab in the 60's.) I suppose since my father was in the original band it made sense for Frank to call me when he was assembling a band to "check his work." It worked… it worked so well we kept it going! NH: You're playing the same part in this music your father Vinnie played. Do you feel his influence more than usual on this gig, or are you playing it completely your own way? 
CR: It's impossible for me not to basically channel him when we play these tunes. I grew up learning about him and his playing through those recordings and I can't NOT hear him as I hear the songs. His drumming is so much a part of it. He passed away when I was so young, it was the only way for me to know him. I can't uncouple it. Although I DO feel like the longer we go on the more of myself I hear and see in it.NH: Slide did a lot of touring and recording with his Octet, but that's tough these days. Do you have any plans to tour or record the band?
CR: We DID make a record! AND SLIDE PLAYED ON IT!! We were so lucky that before Covid and before Slide passed on (which was just a few months ago) we were able to record a record and have Slide play on a few tunes. We'd like to tour as a band keeping this music alive, and we're in talks to do exactly that, but it takes a LOT of work and dedication, so we're "in it" as they say. The record is called "Slide's Blues" and it's available on CD as well as all the streaming platforms.NH: Lastly, what's on your must-do list for New York? Favorite foods? Restaurants and spots you always hit? 
CR: Oh man what a great question… There's so much good food in town,  I love the soup dumplings at Joe's Shanghai, and I love Smith and Wollensky's too… and the chickpea fries at Peacefood uptown!