Singing and Swinging with Champian Fulton
Jazz musician Champian Fulton chats with The Django's Nick Hempton
05.20.22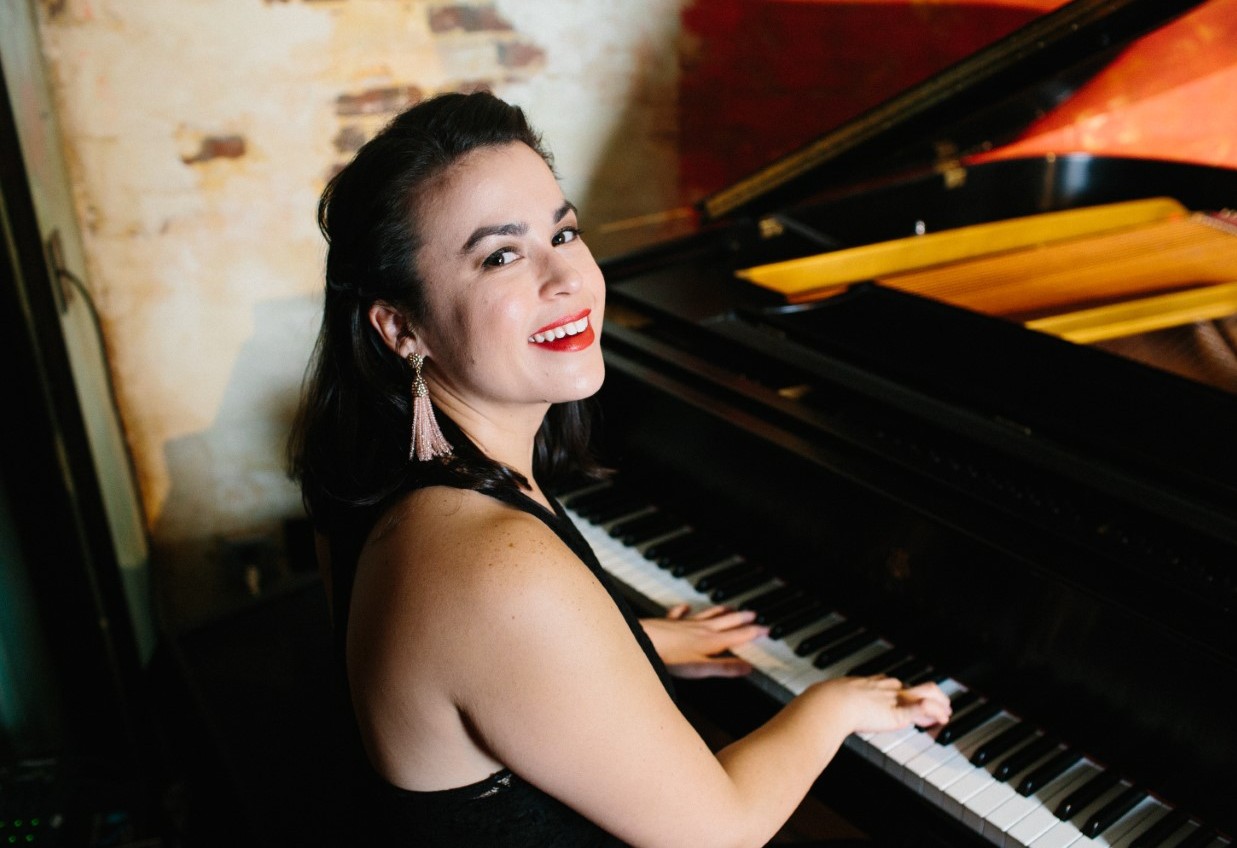 Pianist and vocalist Champian Fulton is one of the busiest jazz musicians in the business. From open-air summer festivals to centuries-old Parisian basement clubs, she's out there bringing swinging jazz music to the masses at every opportunity.

Coming from a jazz family– her father, trumpeter Stephen Fulton, introduced her to the music of Charlie Parker as she was being born. Champian grew up around some of the greatest, hanging out and learning from Clark Terry, Joe Williams, and Red Holloway. She's been performing professionally since the age of 12, and is about to release her 16th album as a leader.

The flame of swinging jazz burns brightly when Champian plays, and we're always thrilled when she takes to the Django stage with her trio. Nick Hempton from The Django recently caught up with Champian and to chat about her heroes, hobbies, and life on the road!

NH: Hi Champian, thanks for taking a few minutes to talk to us. You have an extremely hectic life, touring and recording– we're so glad we've got you at the Django on May 25.  Where are you right now?

CF: I just returned from a few days in Oklahoma and I'm headed to Columbia Missouri this weekend, before I make it back to NY and the Django. So far this year I have performed in 6 countries and 7 states. NH: You play a lot of festivals and concert halls on the road. How does it feel to come back to New York and play a relatively intimate room like the Django?CF: I love all my gigs, but there are certain stages that are my favorites. I love a small intimate room and I really enjoy being able to see the audience's faces while I play. Because of the cool lighting at the Django, I can see the people.NH: You grew up around some of the greatest players in jazz. What lessons did you learn from them about being a jazz musician, on and off the bandstand?CF: When I was young I was around my father, Stephen Fulton, and all his friends like Clark Terry, Red Holloway, Marshall Royal, Major Holley. They were all very kind to me and generous with their time, especially after I expressed sincere interests in being a Jazz musician, probably around age 5. Of course I learned a lot of musical lessons – I remember discovering there were 12 keys and you had to be fluent in all of them when I was about 8 years old and that really blew my mind.NH: Do you have an earliest musical memory?CF: Hmm…you know, no one has ever asked me that question before. When I was 5 years old my parents took me to see the Ray Brown Trio in Norman Oklahoma, where we lived. It was Jeff Hamilton, Benny Green and Ray. I had seen a lot of concerts by then, but I was really impressed by that trio and I really thought I would like to play in a piano trio like that some time. I remember meeting all of them backstage, but I was 5 so I'm sure I didn't say anything very memorable to them, haha. NH: You don't seem to get much downtime. What do you like to do in your time off?CF: My favorite thing in the world is to read! I love reading. Jazz books, fiction books, non fiction books. I have an e-reader and I download books from the library (big public library fan) and I just love to sit outside all day and read. I also really love to fish and drive my car. Of course I also love to listen to my records and CDs. But honestly I don't get a lot of time off! I need to work on planning more into my schedule. NH: You've worked with the same trio for many years. What is it about Hide and Fuku's playing you dig so much?CF: I met Fuku in 2002 on the Jazz Cruise (20 years ago!) while he was working with Lou Donaldson. I just loved that band so much and I wanted to play with him. When I moved to New York I started going to all their gigs, and Fuku's gigs too, and eventually he hired me. On that first gig, Fuku had hired Hide on bass. As a unit we had a real camaraderie and we got along so well as friends too. We have been playing off and on as a trio for about 17 years. I have grown a lot with them, and I think we keep eachother challenged with new material and new ideas, and it's been great to have a real band to develop. I think everyone should have their own band and work to keep the band together, that's when real creativity can really start to happen. NH: Any best or worst road stories you'd like to share?CF: I performed in Mongolia in December 2016. At that time, that was the longest travel day I had ever had. I flew from NY to LA, LA to Beijing for a layover and then Beijing to Ulaanbaatar. I was pretty tired and stressed, the line for immigration in Beijing was sooooooo long, and by the time I arrived in Ulaanbaatar I was pretty fried. I got my bags and headed to meet my driver, only to be met by about 20 fans with flowers and presents and champagne! They were waiting for me right outside baggage claim! I knew I looked terrible from all the travel and the stress, but there was literally no escaping at that point. I was overwhelmed and definitely cried when they started to hand me flowers, but then we started on the champagne and food and it was just a lovely experience. Mongolian people are really very very kind. NH: The gig's over and you've found a quiet table in a corner of the Django. What are you drinking?CF: My new favorite cocktail is the Boulevardier and I actually discovered it at the Django. I love campari and one night I asked the bartender what he might recommend with campari that I hadn't tried, and he recommended the Boulevardier which is campari, bourbon, and sweet vermouth. It's great.